We should all be as generous as Nikola Jokic
The world's biggest point guard lives and thrives in Denver
Few centers in the history of the game empower their teammates like Nikola Jokic, who runs the show for the Denver Nuggets and led the team to 54 wins and the second seed in the brutally tough Western Conference. He's grown from a forgotten second round pick in 2014 into a franchise cornerstone and fourth-place finisher in the 2019 NBA MVP voting.
There's an incongruity to Nikola Jokic's game, a NBA 2K created player with point guard attributes, center size, and crankiness turned all the way up to 100. Jokic might not have the insane vertical firepower of someone like our last subject, Mitchell Robinson, but his mainly ground-bound game still produces whenever needed. Look no further than this flailing, awkward game winner against the Heat.
Jokic uses every bit of his massive frame to battle on the boards, but his playmaking ability inspires today's article. Anyone who watches the Nuggets can attest he's more inclined to drop a perfect dime to a cutting guard than meander in the post.
We can quantify the rarity of this combination of size and passing vision. Let's dive into the numbers and explore the playmaking brilliance of the Joker.
Jokic produced one of the best playmaking seasons for a big, ever
Jokic ended the 2019 season averaging 20.1 points, 10.8 rebounds, and 7.3 assists; in our warped, twisted minds now spoiled by Russell Westbrook and James Harden normalizing a triple double, these results elicit more of a "oh nice" than "holy shit". While averaging a 20/10 puts Jokic firmly in the upper echelon of big men today, the 7.3 number warrants further examination.
Per Basketball Reference, there have been exactly three seasons in NBA history where someone 7'0" or taller averaged seven or more assists: Jokic last year and two insane Wilt Chamberlain seasons.
To help visualize that, here's every season where a big man averaged ten or more rebounds, along with their assist averages.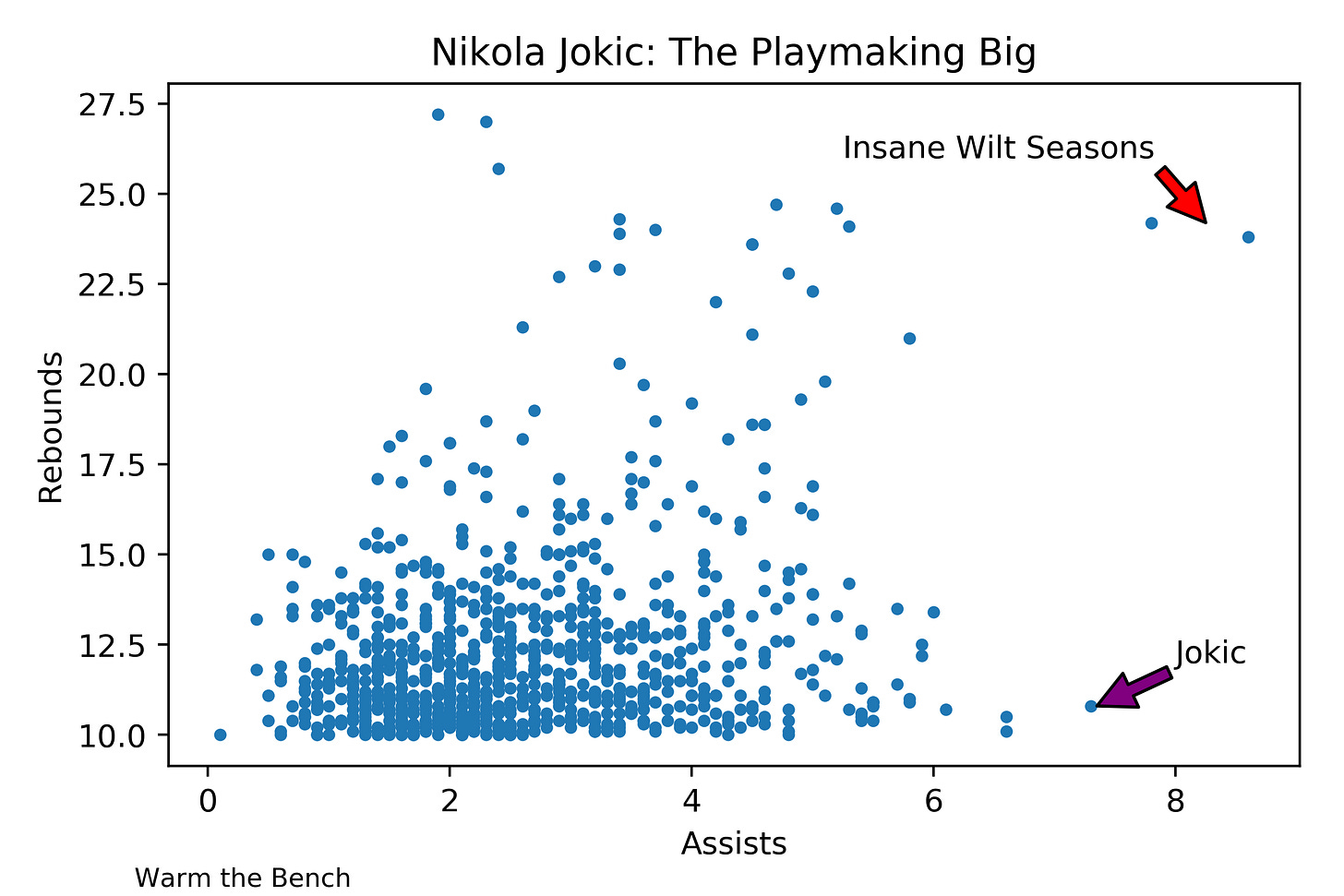 Wilt Chamberlain might actually be Superman.
Even when expanding the search to all players, only Wilt, Jokic, Russell Westbrook (three times), and Oscar Robertson (three times) have averaged 10+ rebounds and 7+ assists for a season, per Basketball Reference.
Advanced stats tell a similar story for Jokic's playmaking. Jokic produced a 37% assist rate last season, which essentially means that according to Basketball Reference's methodology, he assisted on 37% of his teammate's field goals. This rate fits well within the benchmarks for point guards, but once you filter results to forwards and centers, you quickly see the elite company that Jokic keeps.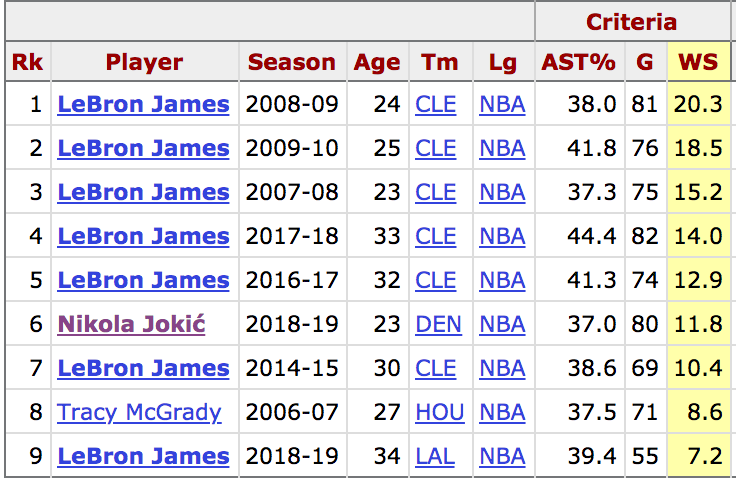 A whole bunch of LeBron and the always underappreciated Tracy McGrady, who one loyal reader tells me is absolutely unguardable in NBA 2K7.
Jokic boasts the absolute best assist rate for bigs according to Cleaning the Glass, along with a 98th percentile for assist to usage ratio; that metric is even more impressive when you consider he's also using an above-average number of possessions each game. His playmaking helps improve the Nuggets offense in general, improving the team's effective field goal rate by 1.8% (good for 82nd percentile, again per CLG).
Where do these assists happen?
I watched a ton of the Nuggets last year–I will admit that I am a proud Nikola Jokic owner in my dynasty basketball league–and I loved his ability to not only produce assists, but ping passes across every inch of the court. Take a minute or thirteen and enjoy the NBA's recap of his top assists in 2018-19.
Jokic assists popped up all over the court, and visualizing these locations lets us see the breadth of his playmaking. I pulled all of the play-by-play data for the 2018-19 Nuggets season to chart exactly where each assist occurred.
A huge, huge thanks to Daniel Bratulić and his fantastic James Harden article and uploaded code for helping me scrap together play-by-play data for the Nuggets, and to Savvas Tjortjoglou for creating an easy function to visualize basketball courts. Go check those guys out!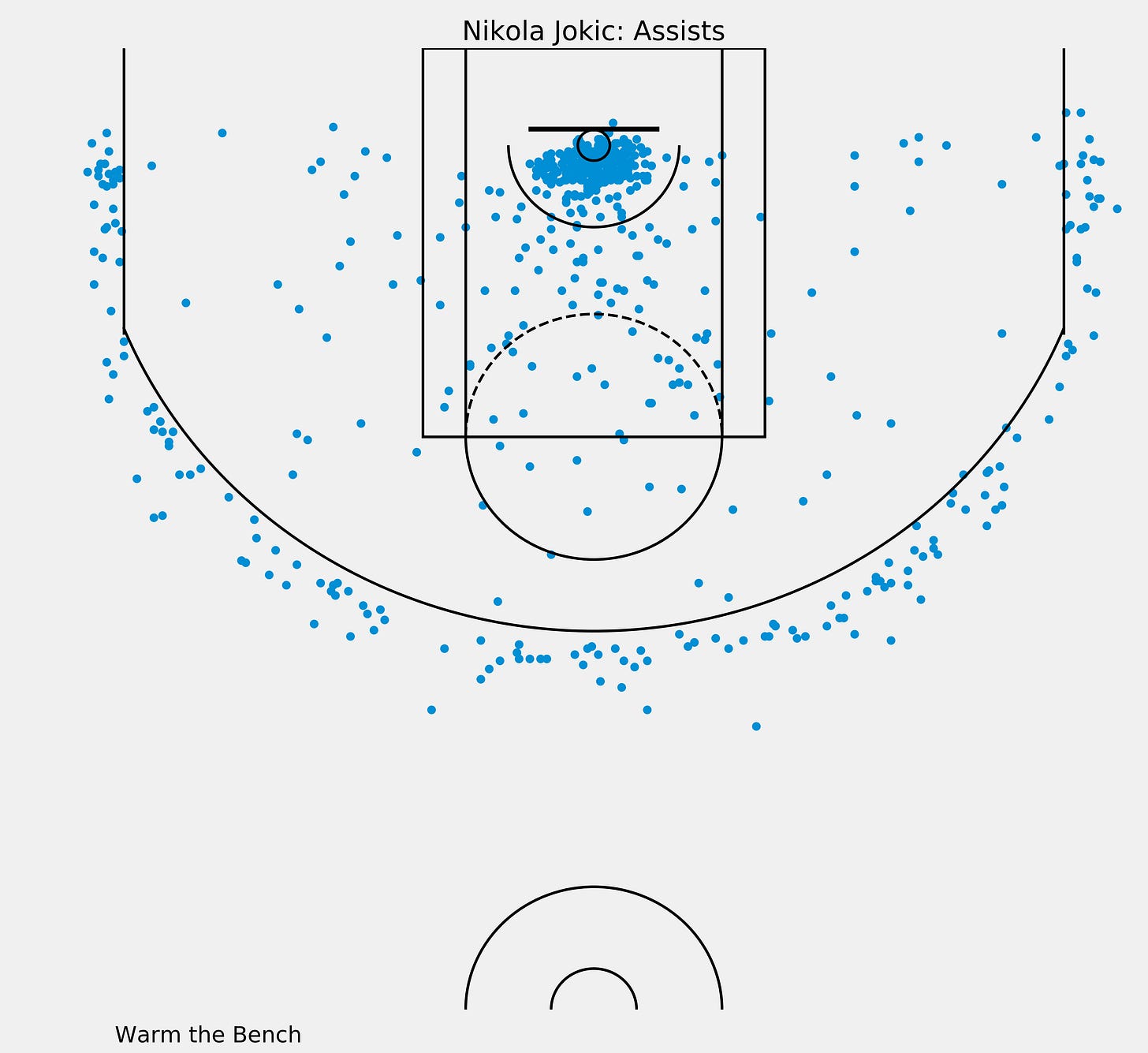 I love this graphic for the diversity in locations for Jokic. He peppers each corner with assists, but you also see the ability to produce looks for his teammates at the rim and beyond the arc.
Daniel Bratulić's article also included a mechanism to filter plays per teammate, which highlights the different connections and roles for each Nuggets player. Last season, Jokic and Jamal Murray, the Nuggets' promising young point guard, combined for over 50 average passes to each other each game. Their two-man game, built around an arsenal of screens, cuts, and handoffs, helped power the Nuggets to the seventh-best offensive rating in the league.
Visualizing the location for each teammate highlights that chemistry, as Murray scores all over the court from Jokic passes.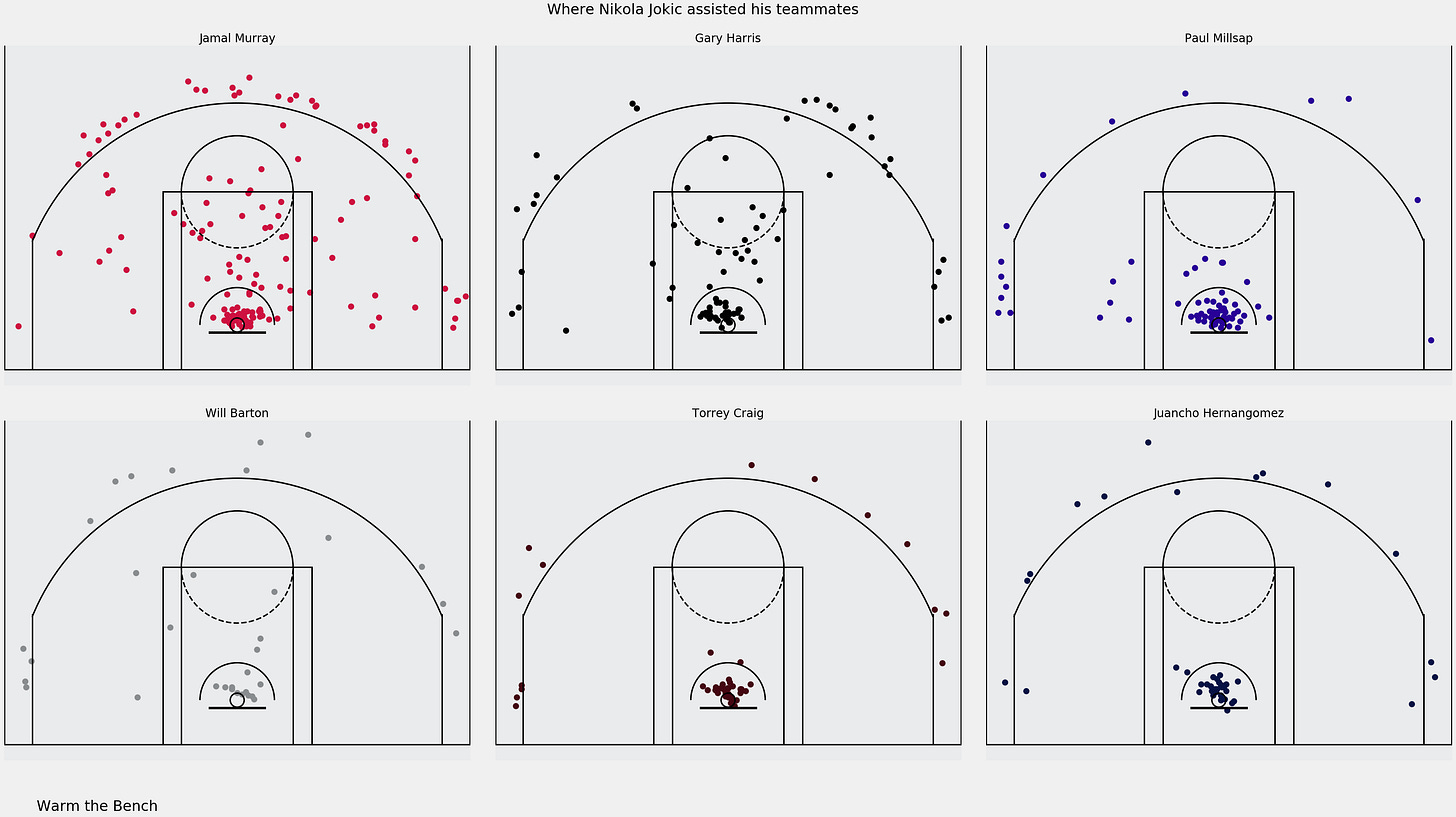 You also see the cutting game of Gary Harris on display, and Paul Millsap's love for the left corner three. These visualizations showcase Jokic's ability to produce quality looks for teammates beyond the arc and inside the paint.
He also produces the weirdest box scores
Jokic mostly brings me joy in fantasy, but he does sprinkle in some of the absolute strangest results. He had the same number of games scoring above 30 points and scoring under 10 points. His willingness to pass occasionally induces a passivity that even his coach called out last year.
Against Utah in November, Jokic produced one of the oddest stat lines of the season:
7 points
10 rebounds
16 assists
Per Cleaning the Glass, Jokic ended up with a 64% assist rate, meaning that in that game he assisted nearly two-thirds of his teammates field goals.
Points represent the easiest part of a triple double to hit, but that night, Jokic insisted on passing first. In fact, there have been only ten games in NBA history where a player put up at least 10 rebounds and 16 assists but failed to reach 10 points. Rajon Rondo owns two of them, a 7/10/20 night for Sacramento in 2016 and a hilarious 2/12/19 game for Boston in 2014.
His ability to stuff a stat sheet helped power a fourth-place finish in my own MVP scoring methodology, which looks at each player's z-scores, or counts of standard deviations, for several key stats.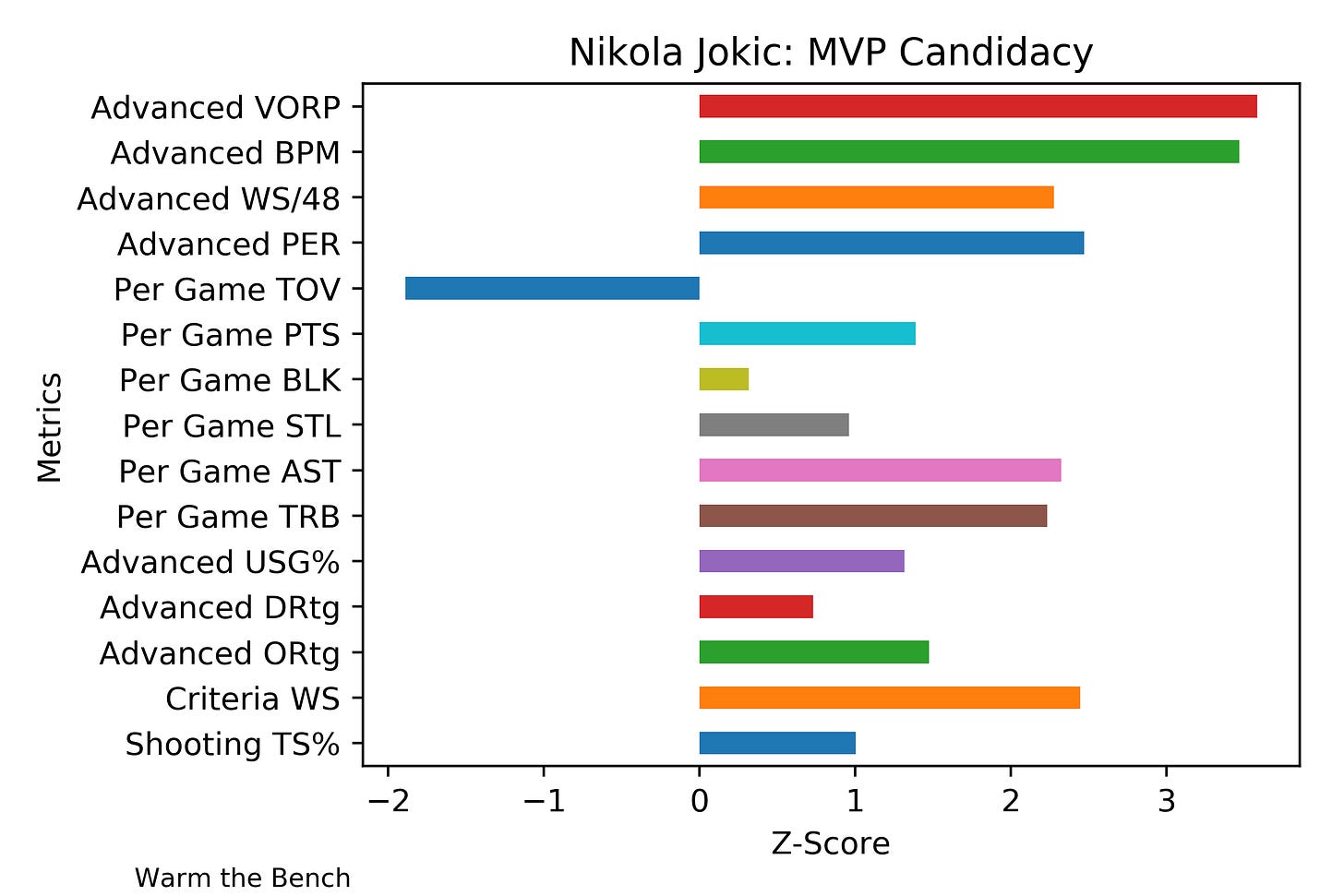 Anything pointed to the right indicates above-average results.
He's beloved by advanced metrics, puts up an assist rate two full standard deviations above league average, and led his team to one game away from the Western Conference Finals.
What will next year bring?
These oddities coalesce to form Nikola Jokic, the MVP candidate, gargantuan point guard, and first team All-NBA center. He's teaching his team how to recover from groin shots and inspiring lengthy appreciations like this newsletter and this Tyler Parker article from The Ringer. Parker describes Jokic perfectly:
He's a swashbuckler masquerading as a Sasquatch. It's a casual audaciousness—it's like he's simultaneously bored and bold—a cocktail of aesthetics that doesn't often come in a slower-than-your-average-bear 7-footer.
The giant man will look to build off a breakout season and transcendent postseason, and I implore you to tune in and wait for that first ridiculous pass to drop.